This post may contain affiliate links. I may receive commissions for purchases made through these links with no extra cost to you. See full disclosure.
How To Clean A Flooded Car Carpet
If you've ever experienced a flooded car, you know how frustrating and overwhelming it can be, especially when it comes to cleaning the soaked carpet. But fear not, because we have the solution for you. Introducing "How To Clean A Flooded Car Carpet", a comprehensive guide that will walk you through the step-by-step process of effectively cleaning your car carpet after a flood. Say goodbye to the stress and hello to a fresh and clean interior.
Driving through heavy rain or encountering a flood can result in water seeping into your car and saturating the carpet.
Dealing with a flooded car carpet can be a daunting task, but with the right techniques and tools, you can restore it to its pre-flood condition.
This article will guide you step by step on how to clean a flooded car carpet effectively and efficiently.
Assess the Damage
The first step in cleaning a flooded car carpet is to assess the damage. Take a thorough look at the carpet and determine the extent of the flooding.
Check for any signs of mold, mildew, or a foul odor. If there are any electrical components below the carpet, such as wiring or connectors, ensure they are not damaged.
It's essential to have a clear understanding of the severity of the situation before proceeding with the cleaning process.
Remove Excess Water
Once you have assessed the damage, it's time to remove the excess water from the carpet. Open the car doors and windows to allow for proper ventilation.
Use a sponge, absorbent towels, or a wet/dry vacuum cleaner to soak up as much water as possible. Start from the center of the soaked area and work your way outwards.
Be thorough in this step to prevent further damage and facilitate faster drying.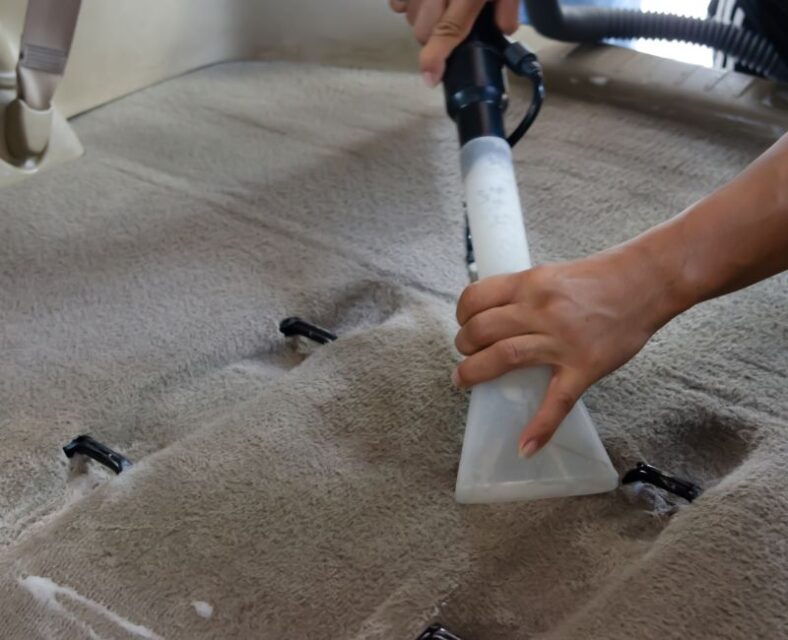 Remove Floor Mats
To clean the flooded car carpet effectively, it is crucial to remove and clean the floor mats separately. Take out the floor mats from the car and shake off any excess water or debris.
You can either hose them down or use a pressure washer to remove any dirt or grime. Ensure they are completely dry before placing them back into the vehicle. This step will prevent any dirt from getting transferred back onto the clean carpet.
Extract Water from Carpet
After removing as much excess water as possible, it's time to extract the remaining moisture from the carpet fibers. Rent or purchase a wet vacuum specifically designed for extracting liquids from carpets.
Start from one side of the carpet and work your way to the other, overlapping your strokes slightly. The wet vacuum will help pull out the water, leaving your carpet as dry as possible.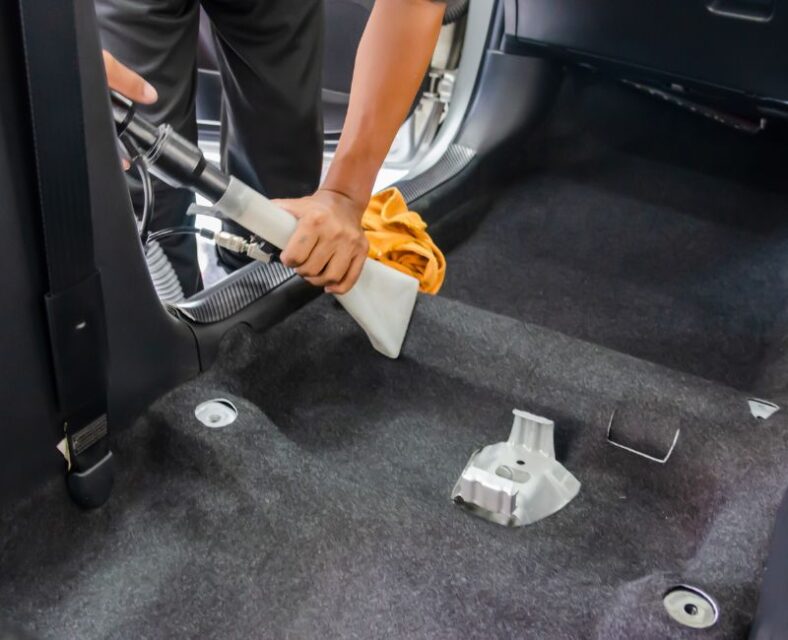 Use a Wet Vacuum or Professional Carpet Cleaner
If you don't have access to a wet vacuum, you can consider hiring a professional carpet cleaner to handle the extraction process for you.
Professional carpet cleaners have specialized equipment that is highly effective in removing moisture from flooded carpets.
Additionally, they can also assess the damage and provide expert advice on the appropriate cleaning methods and products to use. Remember to research and choose a reputable professional to ensure the best results.
Apply Carpet Cleaner or Stain Remover
Once you have extracted the majority of the water, it's time to treat any stains or odors that may have accumulated due to the flooding.
Use a carpet cleaner or stain remover specifically designed for automotive carpets. Apply the cleaner to the affected areas and let it sit for a few minutes to work its magic.
Gently brush the solution into the carpet fibers using a soft-bristled brush to ensure thorough penetration.
Scrub the Carpet
After letting the carpet cleaner sit for a few minutes, it's time to scrub the carpet. Use a brush or a sponge to scrub the affected areas of the carpet gently.
Ensure that your movements are gentle, yet firm, to avoid damaging the carpet fibers. Pay extra attention to any stubborn stains or areas where the water seeped in heavily. The scrubbing action will help loosen dirt, stains, and any remaining moisture, readying the carpet for rinsing.
Rinse the Carpet
After scrubbing the carpet, rinse off the carpet cleaner and any loosened dirt and grime. Use a clean, damp cloth or sponge to wipe away the excess cleaner.
Repeat this process until no residue remains on the carpet. Ensure that you wring out the cloth or sponge thoroughly to avoid saturating the carpet with excess moisture.
Dry the Carpet
Drying the carpet thoroughly is essential to prevent the growth of mold and mildew. To facilitate the drying process, park your car in a well-ventilated area with direct sunlight if possible. Open all doors and windows to promote airflow.
Use a fan or a dehumidifier to speed up the evaporation process. Avoid using heat sources such as hairdryers, as they can damage the carpet fibers.
Patience is key in this step, as it may take several hours or even days for the carpet to dry completely.
How To Clean A Flooded Car Carpet
Prevent Future Flooding
Now that you have successfully cleaned your flooded car carpet, it's crucial to take preventive measures to avoid future flooding.
Regularly check your car's weatherstripping, doors, and windows to ensure they are tightly sealed. Avoid parking in low-lying areas prone to flooding.
If ever caught in a flood or heavy rain, make sure to take immediate action to remove any excess water from the carpet. Additionally, consider using waterproof floor mats to provide an extra layer of protection for your car's carpet.
Cleaning a flooded car carpet may seem like a daunting task, but by following these comprehensive steps, you can restore your carpet back to its former glory.
Remember to remain patient throughout the process, as proper drying is essential to prevent further damage. By taking preventative measures and staying vigilant, you can minimize the chances of encountering a flooded car carpet in the future.
Latest posts by Wet & Dry Master
(see all)